Page 21 of 21 •

1 ... 12 ... 19, 20, 21

Thanks for sharing your thoughts ladies.
According to dr. K: "Gag reflexes are like doing push-ups for the vagus while gargling and singing loudly are like doing sprints. "  

Think I'll take the move to the new(er) laptop as a clean slate...

LB, this info was great! Like you said, some of the info is not new but it is a good refresher.

I like the steps but I am finding in my journey, that several of the steps need to occur together. I am having success in removing toxins, eating foods that heal my gut, including lots of bone broth and fermented foods and supplementing carefully. It is a slow, slow process but I am see small amounts of progress each week and significant progress in the last year.

Thank you!



Posts

: 176


Join date

: 2017-12-02



Thanks Val. Yes, I agree on the steps needing to be combined to see actual progress. You can't simply eliminate items, they (often) need to be replaced with better options. Glad to hear it was helpful.
More on AIP, for those interested

https://drknews.com/autoimmune-gut-repair-diet/
https://chriskresser.com/diet-and-autoimmune-disease-what-you-need-to-know/
From petra8paleo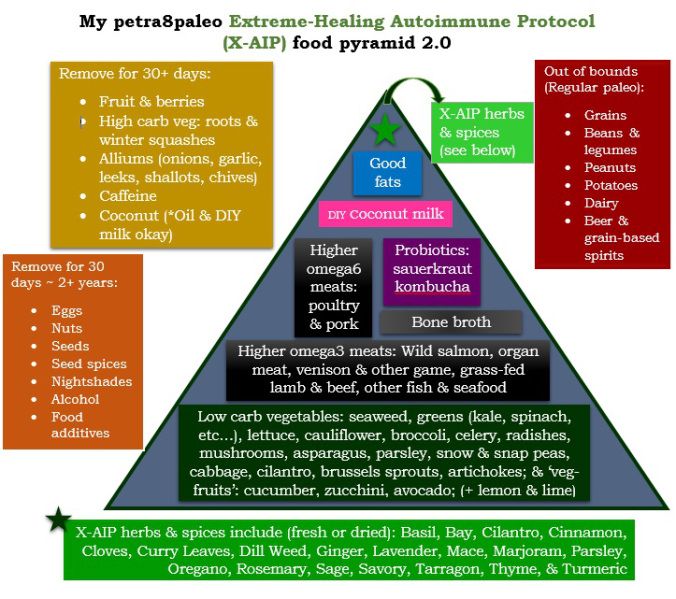 Yeah... it's a rainy day...  
Still, took the time to run errands, pick up groceries and gifts as well as Christmas cards, and all of that luckily inbetween the showers.


Now it's raining more or less continuously... as forecasted..
We're having a family gathering at Mom's tomorrow and I planned to make some pickled red onions to go with the smoked salmon. Shouldn't take too long as the recipe is really simple...
On another note: just got a message from dr. Tom sharing the link to the 1st Q&A session of Interconnected tomorrow: https://www.interconnectedseries.com/liveqa1/ which ofcourse I can't watch due to the time...


noted on the Q&A. I will be watching.



Posts

: 1411


Join date

: 2017-12-10


Location

: Oregon



tomi1000 wrote:

 noted on the Q&A.  I will be watching.  
So nice of dr. Pedram Shojai sharing ALL bonus videos as well as Q&A (replay)s for free after the event was finished, and not just in the sale packages, so that all could watch

aside from the more or less standard replay weekend of all 9 episodes; even if his timing was a bit off with it being during the holiday season as is obvious by the comments... Not sure if you ever watched Betrayal on autoimmune diseases by dr. Tom O'Bryan but that one got aired at least twice over time.
Plenty of things that need to be taken care of before the beginning of the new year, some small but important so on the to-do list in order to remember and checking them off when done, others more labour intensive or time consuming... several meetings/gatherings too. Judging from other journals pretty much everyone is busy that way, some also scheduling health related visits that require plenty of research as to find a possible solution, others fighting a cold/flu. *careful hugs*
Despite that, trying out a few new recipes for dinner, just for fun, and so far all tasty, according to both DS and hubby. Nothing really fancy, but healthy without being too obvious about it. Having lunch with Mom and youngest Sis on Friday, which I will prep and take there... last weeks' pickled onions turned out quite good btw... 

It was cold today... first day the temps stayed below zero for quite a while... we might get snow this weekend... or not.

Did you know it's St. Lucy's Day today? Or Santa Lucia as they call it in Scandinavia?
Luc... Lux... Light
St. Lucy being the bearer of light in the darkness of winter.
Too bad she doesn't visit Ohio more often.



Posts

: 1044


Join date

: 2017-11-27


Location

: Dayton OH



Rig she visits here about as much as she visit you.

LB - glad you've found some new recipes.



Posts

: 2575


Join date

: 2017-11-29



One of the reasons we live in AZ!



Posts

: 1038


Join date

: 2017-11-30


Location

: AZ



Page 21 of 21 •

1 ... 12 ... 19, 20, 21


Similar topics
---
Permissions in this forum:
You
cannot
reply to topics in this forum