I was perusing my old humor file, thought I'd share a few of my favorites. I hope you enjoy them. Please add yours.
Family life

Calling Mr. Softy's tech support
 Haven't we all "been there, done that?"
Work
 For a long time I followed Scott Adams' Dilbert. I think Adams lived inside my head to come up with some of his cartoons. Dilbert works as an engineer in a large bureaucracy. For frame of reference,  I'm a mechanical engineer by education, a software guy by profession, a mid level manager, and did a lot of consulting work.
Views on management:





Other departments:





Posts

: 1048


Join date

: 2017-11-27


Location

: Dayton OH



Thanks Rig, needed those. I used to follow Dilbert too.
I'm a big Calvin & Hobbes fan, as you can probably tell from my avatar. Grew up reading the comic strips, and still have all the original individual collections on my shelf.
Here's Hobbes being primal and going for that nutrient-dense, omega-3-loaded tuna fish. Also strictly adhering to his ketogenic diet and rejecting the high-carb pineapple:



Posts

: 57


Join date

: 2017-12-01



The guy I used to work with was a Dilbert fan too. That meant I got some good ones to read now and then.

My favorite was the Far Side but I do not have on hand any longer. I used to have a file.....someplace.



Posts

: 1328


Join date

: 2017-11-29


Age

: 71



The recent coverage of the student protests on gun stuff brought up a comparison...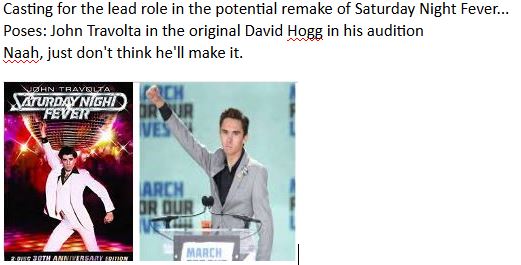 Original movie intro, and a brief return to disco starting at 3:20:



Posts

: 1048


Join date

: 2017-11-27


Location

: Dayton OH



David Hogg just so over enthusiastic.




Posts

: 1132


Join date

: 2017-12-07





Similar topics
---
Permissions in this forum:
You
cannot
reply to topics in this forum